Commercial Blank Canvas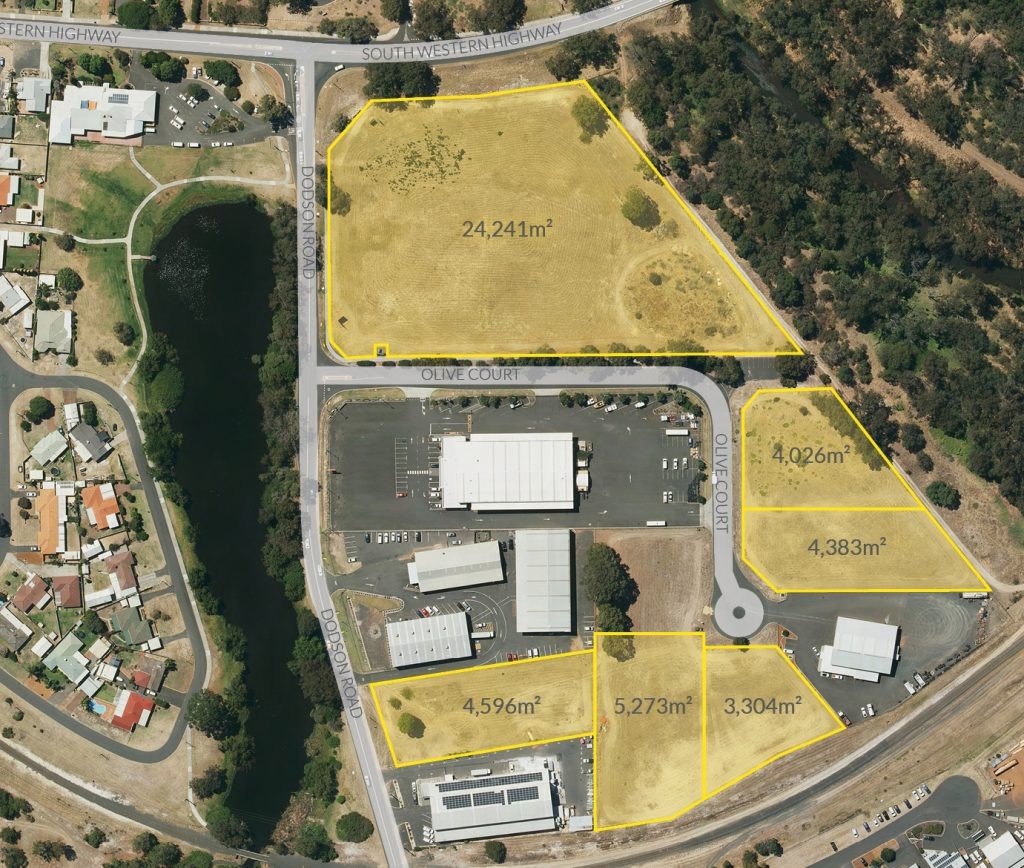 This subdivision offers an absolute blank canvas in an established prime commercial location with great exposure to a busy highway while being close to major transport routes and infrastructure.
The subdivision is located on the South-Eastern corner of the intersection of South West Highway and Dodson Road, close to the main port access road being Willinge Drive, Bunbury Airport and the Bunbury CBD.
These 6 vacant fully serviced lots are available in a variety of lot sizes from 3,304m2 to 2.42 Hectares that will appeal to a variety of businesses. All lots are available to purchase or the owners will develop them for you to suit your business needs.
11 Dodson Road (4,596m²) $473,000 plus GST View more details HERE
Located next door to the Fullers store and has great access and frontage to the very busy Dodson Road. This lot is perfect for a business that wants instant exposure to the passing traffic
15 Olive Court (5,273m²) $576,000 plus GST View more details HERE
18 Olive Court (5,273m²) $375,000 plus GST View more details HERE

2 Olive Court (2.42ha or 24,200m²) View more details HERE
Situated on the corner of Dodson Road and Olive court with great exposure to The South West Highway and Dodson Road. A lot of this size and zoning in this area is rare and would suit a large business wanting maximum exposure from the passing traffic.
12 Olive Court (4,026m²) $455,000 plus GST View more details HERE
14 Olive Court (4,383m²) $495,000 plus GST View more details HERE

The subdivision is situated within the Davenport industrial precinct approximately 5 kilometres south-east of the City of Bunbury's Central Business District. Bunbury is located in the south-west of Western Australia being approximately 155 radial kilometres south-west of the Perth Central Business District.
Bunbury is a regional city centre situated on the coast and has a growing population of approximately 105,817 people at the 2020 Census. A full complement of community infrastructure is provided within the Bunbury locality including a major port and airport.
Development within the Davenport industrial precinct comprise mostly established large scale industrial workshops, smaller workshops/industrial units with attached office accommodation and vacant land.
All of the lots are zoned "Light Industry" under the City of Bunbury Local Planning Scheme No. 8. Permitted uses within the "Light Industry" zoning classification include Bulky Goods Showroom; Commercial Vehicle Parking; Garden Centre; Laundromat; Lunch Bar; Motor Vehicle, Boat or Caravan Sales; Motor Vehicle Repair; Motor Vehicle Wash; Telecommunications Infrastructure; Trade Display; Trade Supplies; Transport Depot and Warehouse/Storage.